Ogre Battle 64: Person of Lordly Caliber is an electronic game released for the Nintendo 64 console.
The game is the continuation of the game for SNES Ogre Battle: March of the Black Queen, but this time the main character is Magnus Gallant.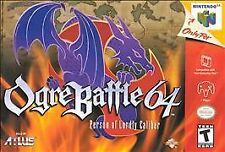 To download the rom of the game click on one of the options of download just below:

Instructions
Download the emulator and unzip it with Winrar. Rom also comes packed but you do not need to unzip it because the emulator recognizes it even compacted. After downloading the rom, put it inside the rom folder of the emulator. Next step is to click Open Rom to start the game. Any problem in emulation leave a comment just below.
Download format is magnet link, so you'll need utorrent installed
Emulator Recommended:
Windows: Project 64 | Android: Mupen64